News
October 23, 2022
Professor Dr. Akademik Ljubiša Rakić, member of the Serbian Academy of Science, one of the most prominent scientist, who is ill at the moment, is sending his regards and his article.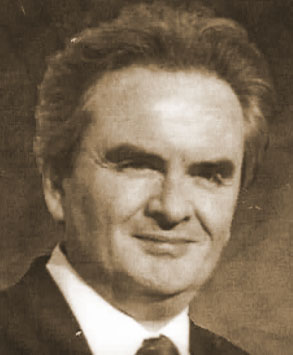 Krajemprošle godine u SAD je preminuo istaknuti naučnik poreklom sa ovih prostora, Prof. dr Nenad S. Marković. U toku poslediplomskih studija, sarađivao je saBeogradskim univerzitetom, Univerzitetom u Malmeu i Fogarty internacionalnim centromu Betezdi.

Profesor Nenad Marković predavao je nauniverzitetima u Beogradu, Novom Sadu,Skoplju, kao i na američkim univerzitetima u Pensilvaniji i Merilendu. Izdomena naučne ekspertize Prof. dr Nenada Markovića, izdvaja se njegov rad uoblasti hematologije i onkologije. U ovim oblastima, dao je veliki brojpublikacija koje su široko citirane u domaćoj i stranoj naučnoj literaturi.

Zapaženi su radovi profesora NenadaMarkovića i njegove supruge, prof. dr Olivere Marković u oblasti endokrinologije. Kruna njihovog rada jeste otkriće MARKPAP® biomarkera za detekcijuabnormalnosti ćelija i skrining kancera grlića materice.

Naučnici sa ovih prostora usavršavalisu se u njegovim laboratorijama u zemlji I SAD. Sećamo se profesora Nenada Markovića sa pijetetom.

Akademik Ljubiša Rakić

Thank you, Dear Professor Rakić. We wish you all the best.
August 23, 2022
During his stay in the states 5 companies, Dr. Markovic developed and lead 5 companies:

BioSciCon, Inc., Technology Company, Biomedical Science Consulting (www.bioscicon.com)
Non profit organization, global academy for women's health (www.markpap.com)
These are marketing companies for the world and specifically for India and China:

You will see the illustrations here, and data about these companies can be found on internet under their names or author's names; and in the book ''What Every Woman Should Know About Cervical Cancer'.

August 9, 2022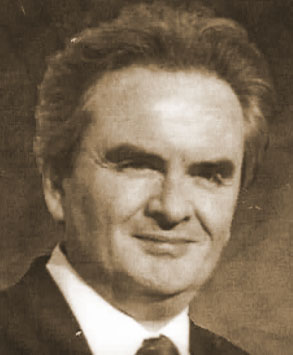 Dearest Nenade,

Here I am, your Nenadica writing at 2 o'clock in the morning. There is no sleep and eating anymore for me. When night approaches, it becomes quiet. Thoughts are even more loud, sadness even more non-tolerable… I try to continue existing only to continue your legacy.

There is not anybody whom I met or heard who can be compared with you, Nenad, brilliant scientist, precious doctor for a patient, huge knowledge of history, religion, Life experiences,  general medicine and prevention, music ,visual art… we call him walking encyclopedia.

It is tragic that he is not with us any more. I am writing to colleagues and friends to get to know him better.

I will write for you in a couple of parts. I am writing on my laptop in bed, so please pardon my mistakes and format. In this segment No. 1, I will try to remind you of the basics. of the technology that Nenad invented as a scientist.

1. Summary of Scientific Contribution

Legacy that Prof Markovic left is to eradicate cervical cancer in the world, and no woman - wherever she lives and how much money she has - will not get cervical cancer.

This is possible and already accomplished with Nenad's MarkPap test.  With the Home Test Kit, a woman can take a sample at home and send it into the neighboring Point of Care, where a simple manual MarkPap test can be easily performed by a law-trained technician. The technician searches for MarkPap biomarker, the red color deposit, which denotes positivity. Please see the marker at www.bioscicon.com and www.markpap.com). 95% of samples do not contain the 'red' marker and are released as normal, cells from slides with biomarker positive "red" markers are transmitted (the images) to a bigger lab for final evaluation.

Dr. Nenad invented a microscopic adapter that functions as a human hand, movable in all directions or via cell phone. The other miracle is that Nenad's test detects changes which are not yet cancer, but pre-cancer..These are biochemical changes that precede morphological changes (www.bioscicon.com)

In the bigger lab, the result is immediately read and returned to the Primary Point of Care. If the woman is at that point, she gets the result immediately. If not it is mailed to her.

Since home testing is involved, women across the whole world can get it, and more than 50% of women are screened, cervical cancer will start to decrease constantly and disappear.  It is also important that women in Muslim world can have the test without visiting a gynecologist, which solves this cultural barrier.

All details can be found at www.bioscicon.com and www.makpap.com and on the internet. Published more than 300 publications, including scientific articles, review articles, chapters, books and patents. The most recent "What every woman should know about cervical cancer'', Springer 3rd Edition, was distributed and bought across the whole world.

2. Summary of Educational Contribution

Professor at universities in former Yugoslavia, University in Skopje, University in Belgrade, University in Zagreb and Novi Sad. In the United States; American University Washington DC, Maryland University in College Park, Maryland, University of Baltimore County, UMBC), University of Penn in Philadelphia, Medical College of Pennsylvania, NIH, FDA, educational institutions. Teaching undergraduate, graduate, postgraduate, doctoral levels. Subjects include internal medicine, pharmacology, hematology, oncology, epidemiology and pathophysiology.

Initiated and developed  English Speaking Medical School in Novi Sad, with collaboration of NIH and the government of Yugoslavia. Very successful with exchange of students and faculties. Still in function.

Oncology courses at the Oncology Institute in Novi Sad. The book 'What every woman should know about cervical cancer', Springier, 3rd Edition, Translate NIH popular cancer books. Leading republican appointments; President of the Yugoslavian Cancer Society, Dean of medical schools, member and president of the committees at the medical schools, etc.

3. Dr. Nenad Markovic was a patients beloved doctor.

"Life is where you are doctor" patients used to say.  They loved him, because he was treating them equally nice. When he called, in the middle of the night or day he was there treating, encouraging them, listening to what they wanted to share with his wonderful tender smile on his beautiful face and warm blue eyes.

When he would come back for meetings in Yugoslavia, delegations and delegations of former patients would come to see him. This was my Nenad. Not only an exceptionally knowledgeable professional, but a wonderful good man. Thank you Dr. Nenad for all of  them.

It is also important to remember that Dr. Nenad's test (the biomarker) detects biochemical changes that appear before actual cancer, when women do not have any symptoms, what is really screening - healthy asymptomatic women - with HPV testing this is not the case.

Currently about half a million die from cervical cancer per year.

Thank you, Dr. Nenad Markovic.

4. Entrepreneurial Work

Incorporated and conducted the work of four ForProfit organizations: Biomedical Science Consulting, Inc., (BioSciCon), MarkPap LLC, MarkPap India LLC, MarkPap Pacific, LLC.

More about these activities follow in the next NEWS.

July 29, 2022
My dear colleagues,

Here is Dr. Olivera Markovic-Nenadica, standing alone and very sad. Do not believer that 'time is beautiful healer'...the pain is changed, it is deeper, constant, realistically present feeling that he is gone, never coming back. I would give all my life to touch him for a second, oh, God.

Nenade najmiliji beskrajna moja ljubav je sa tobom, uvek, uvek....

How are you, dear colleagues? Do you use the Mark PAP test, particularly in China, Africa, India? In our book "What every woman should know about cervical cancer," you will find chapters devoted to each country, with specifics. Visit www.markpap.com.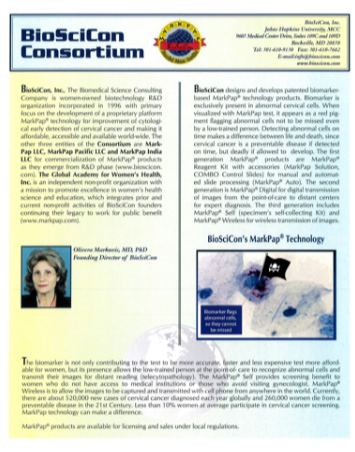 I have here the whole laboratory, with regents, disposables, all instruments, including microscopes, to introduce the method and immediately start working. I am ready to show you, one morning is sufficient. We can move everything in a separate laboratory, and establish a nucleus for markpap. Easy and important to see that the eternal wish to eradicate cervical cancer is obtainable.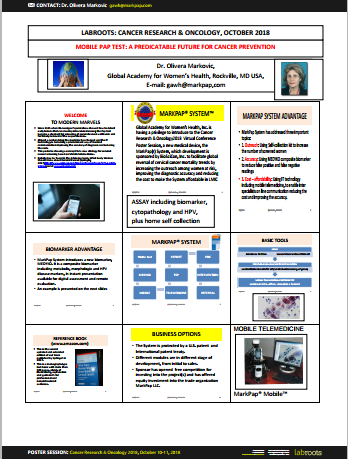 The Self kit is also so important for these covid times. A woman can take sample at home and send it to the laboratory. We have an original adapter for the microscope to send images to a different place, this is mobile pap.

Write to me, please now at olivera.markovic.md@gmail.com. ‍

Still in the hospital,
Regards

May 12, 2022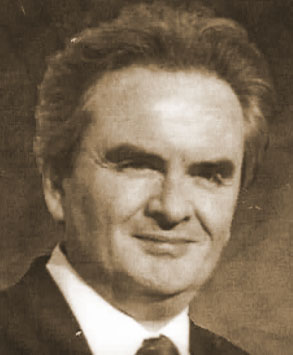 ONE YEAR EXISTING, NOT LIVING, WITHOUT MY NENAD, HAS PASSED

NAJMILIJI MOJ NENADE,

I know that you do not read this but i know that it is somehow reaching you the greatest love of this earth and remembrance on the other. Every second my thoughts are with you my sadness and my prayers around you. I would rather be where you are, but I am trying to finish here what i think is my obligation to you.

You are around I know, and and i love you more and more every second and Good Lord must see this and help.

Ljubim te i grlim te,srce moje najmilije.

Time, as a beautiful healer, they say, does not help, just increase the reality.

Tvoja Nenadica

My dear colleagues and friends,

I have been very sick, and the plan for the development of the Markvoic Foundation and Library has been delayed. We are now trying to begin building again. With your help we can make the Markovic Foundation and Library a reality.

Visit markpap.com and Biomedical Science Consulting, Inc (bioscicon.com) and choose items that you would like to have (small laboratory equipment, disposables, reagents, microscopes, slides, color glass or photos, control slides). Also, chapters from the book 'What every woman should know about cervical cancer', lectures for students biotechnology masters at UMBC.

Tell me how are you doing, and how we can provide further help.

This is the legacy of great Professor Markovic towards eradication of cervical cancer, not a single woman to be allowed to die from this preventable disease.

Professor Olivera Markovic

January 24, 2022
Let 24 January 1938 be remembered as the Birthday of the greatest man who existed for the family, numerous students in the world, colleagues and collaborators.

With love and respect for ever and always.

January 2022
Greetings for the new year to family, friends and collaborators from Nenadica.

May it will bring to you good health, happiness and continuous success. Thank you for your support during these most difficult period of our lives. Although still ill, I am ready to help all colleagues working with Nenad MarkPap and continue his legacy that cervical cancer can be eradicated and no one single woman should be allowed to die from cervical cancer anymore.

July 2021
Message from Dr. Olivera Markovic

Dear friends, family, collaborators and followers,

This is Olivera who is sending you a photo that we prepared for the anticipated Drs. Nenad and Olivera Markovic Foundation and Markovic Library.

We planned to collect materials that are located in four rooms full of scientific papers, published and draft results, reviews, lectures, patients and books. I planned even a small laboratory with ready-made reagents to do manual MarkPap® tests and enjoy simplicity where method was brought for even low-trained technicians to perform.

I wanted to donate microscopes, fax machines, refrigerators, even one of my pianos for relaxation.  

But it was not meant to happen now. Tragedy took place and we do not have with us professor Markovic any longer.

Let us thank him for his great contribution in science, healthcare, education, social health benefits.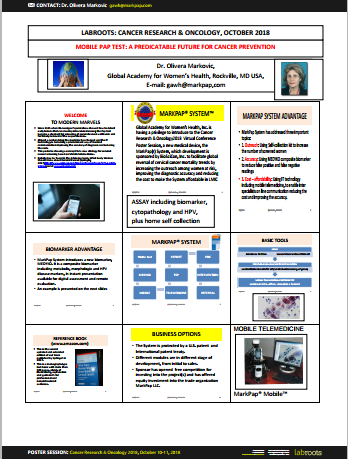 MarkPap® technology has advanced now in MarkPap® System™ with Home-Digital MarkPap®. Self-sampling, which is a part of MarkPap® system, enables women in rural parts of the world to have screening even if they cannot visit a doctor, or have cultural sensitivity to have a pelvic exam, or other reason (see citations). The percentage of women screened with MarkPap® Home-Digital™ is much greater, and self-sampling at home is particularly important during pandemics.

MarkPap® Digital™ also enables transmission of files from point of care (POC) to hospitals for final diagnosis. Only MarkPap® biomarker positive slides should be sent for Pap digital diagnosis. Biomarker negative slides are returned and women go home for the next year testing (see gallery). Complicated positive slides or samples could be submitted for further diagnosis in the United States.

MarkPap® system is finally helping the everlasting problem of cervical cancer screening – real screening of asymptomatic women – to be solved, and technology to be introduced not only in China, India and Europe, but to the whole world. This is a mission of the Global Academy for Women's Health, too.

This is Dr. Markovic's legacy that we should continue. Please write me at info@bioscicon.com. I am still in the hospital greeting you from my hospital bed and a wheelchair.

Dr. Nenad was a wonderful father to his children, providing them with the highest level of education and raising them in family values, honesty, fairness and independence in making their decisions with their own mind and principals, not affected by bad people around them.

Professor Markovic was also admired by his patients. When we used to go to congresses in former Yugoslavia, delegations of patients with their families would come to greet him from all parts of the country for what he has done for them. Let us continue his legacy. The great Dr. Nenad would say, "where I stop, you continue; what I could not do you will."

For me, there are no words to say, I would give my life to see him just for a few seconds again. How can I thank him for a million days of perfect happiness? Most sincere love and devotion, like a beautiful, shiny crystal without any flaws. My dearest, you were the most wonderful man I have ever met and seen in my whole life. Brilliant intelligence, huge professional and general knowledge (history, religion, life), he was like a walking encyclopedia. Firm, decisive, guided by principals, not by fear, always calm, polite and honest. Honesty was the hallmark of his personality.

Oh my dearest Nenad, I cannot describe the depth of my pain and sadness of this tragedy. Mili moj, voljeni Nenade, ljubavi zivota moga, sreco moja, radosti moja.

In order to express admiration to my Nenad, I decided to adapt an old custom from South Yugoslavia – to name a spouse by the first name of her husband, too. In my case it would be Olivera Markovic-Nenadica. I decided to proudly carry this name to the end of my life. We will remain forever two people with one shadow.

January 2021
Cervical Cancer Awareness Month

Greetings from Drs. Markovic

Today is January 27, 2021. Almost the last day of Cervical Cancer Awareness Month. We were following many contributions published and publicized on cervical cancer during this month, but we have not seen the long-expecting words, "cervical cancer is not a problem anymore."  On the contrary, many have addressed the problem of this disease incidence, prevalence, and mortality, together with many old and new strategies of the fight against this, still fatal malignant disease.

This is why, in the month of confirming the awareness of this global live threatening disease, we think it is important to review some of the well known, but frequently neglected facts.

Cervical cancer is not a frequent malignant disease. However, when occurs, it is a slow-growing tumor manifesting its presence with many objective and detectable signs, but it is resistant to the radio, chemo, and immunotherapy and has a fatal outcome against many attempts to stop it, coming within 3-5 years of the initiations. This is the natural history of this disease, and the story of the fight against it, which is now telling by many authors and sources during this month, is full of our collective efforts to postpone if we cannot prevent, the fatal outcome.

You have surely noticed that I have not mentioned surgery. This is still the only efficacious treatment, and surgical removal of the tumor is the only option to cure cervical cancer. Unfortunately, surgery has its limitations. It is effective only on the clinical stage 1A (carcinoma in situ) and much less effective from phase 2A (early phase), and is not guaranteed success in any other clinical-stage including all B (metabolic) changes.

This is why the old American Cancer Society definition for Pap test, "the assay that can help pathologist recognizing the early sign of development of lesions, which if untreated or removed on time, could lead to the development of cervical cancer with all further complication and fatal outcome."
Today, the connection of cervical cancer with the human papilloma virus (HP) is a very popular target for exploration in the fight against cervical cancer. However, HPV is a virus, not cancer. It promotes the growth of the tumor and is present in almost all samples taken from surgery of patients with advanced cervical cancers.  However, HPV generates papilloma (condyloma acuminate) a benign tumor growth, which in some late phases, could, but not obligatory, convert into a malignant tumor.

This is probably why, millions of vaccination already applied did not cause a dramatic reduction of cervical cancer incidence, or change of diseased natural history, but a measure with surrogate endpoints developed for clinical trials.
As a result, the latest recommendation for management of cervical cancer prevention and disease, keeps the histology (Pap test or any variant) together with HPV as necessary procedures for cervical cancer screening.

And this is why BioSciCon, Inc. has developed a new strategy on how to fight cervical cancer (referred in a book, What every woman should know about cervical cancer, published by Springer in 2017) which is spreading globally with the basic idea to reverse the upgoing trend of cervical mortality curve and to provide the world community with tools to sustain this reversed trend.
I would finish, our celebration type communication, with the optimistic prognosis, and the words: today, there are more than ever means to fight cervical cancer - we need only will and a new strategy to apply it in larger portions of the population (more than 55%) instead of current 25% globally.

Having said that, we wish readers of this note a Very Happy New 2021 Year and a visible progress in Fight against Cervical cancer in their community and society.

Drs. Olivera and Nenad Markovic

December 2020
Invite for Donation

Please consider to donate to the non-profit organization, the Global Academy for Women's Health. Each contribution matters and every dollar of your tax-exempt contribution will help its Mission to advance science and education in women's health.

Make our book "What every woman should know about cervical cancer" your companion to  turn to when you are ill and need guidance where to go, or if you are healthy, learn how to stay healthy. Knowledge is power, particularly in this pandemic situation where cancer is present together with COVID 19, and continue to kill thousands of women, if not protected on time. However, for cervical cancer, there is protection that is described in this book.

Academy's activity is regularly recorded in publishing documents where donors are  acknowledged for their contribution. Dedications are also allowable.

Sponsorship Form is included. Please make your tax-exempt contribution now clicking on this Form, save money and make social impact.

Thank you for becoming a sponsor and a partner with the Global Academy for Women's Health to continue its life-savings mission around the world.

Happy Holidays.

October 2020
QUO VADIS CANCER DIAGNOSTICS?

An overview on how to integrate basic knowledge and modern information describing cancer exam results

By: Drs. Olivera & Nenad Markovic, Rockville, Maryland, USA

Cancer is a disease which presence among human beings is known from the ancient times of our civilization.

It has been described as "unstoppable growth of abnormal cells inside the body with fatal ending for the host.

The entire medicine and later health related sciences have devoted enormous effort to postpone the inevitable death of cancer (or complications) and to help patients to cope with a life ruined by cancer.

Not only science, but all religions have done the best they could to meet the same goal – postpone death and or mitigate suffering during life.

No results. We still do not know what cancer is, how it is coming, and how to control its development and to avoid its final outcome.

The recent IT digital technology revolution, as many technical revolutions before, has brought new hopes and new techniques to serve the same purpose: to postpone the death and ameliorate the suffering.

Today, we are looking for biomarkers that can show many relations with those goals among the electromagnetic waives, or the structures of atoms, molecules, cells, tissues, organs and body as its entirety. Many new strategies have been developed and many products and services have been offered and/or used for this purpose.

In 2017, Springer Science has published our book: Drs. Olivera & Nenad Markovic. What every woman should know about cervical cancer?

Without pretension on having the answer on many questions I just discussed, I wish to share that in the follow-up to the publishing our book, we have identified a great diagnostic diversity the new technologies have brought to the armamentarium of tools fighting against cancer. This fact prompted us to write an article where we would try to organize, by a filtering technique, the vast majority of new information, towards the centuries old goals: To postpone death and to reduce suffering of cancer of those attacked by this fatal disease.

Thinking about filtering, we started with the basic information: How cancer is diagnosed? Indeed, for centuries, cancer is diagnosed by two parameters: presence of a new growth in the body described by pathology diagnosis, and the extent of it spread determined by the clinical classification of stages.

It indicates to the robust end-points for cancer definition: pathological diagnosis plus clinical staging. Everything else could be considered as surrogate diagnostic data that can only be used to help describe the main and robust endpoints.

This statement lead us to the new question for the readers of our text.

If the cited principle is acceptable, than the natural next request would be to Include cancer basic diagnostic descriptor(s) in each and every surrogate-diagnosis result. E.g., BUN in a case of Clear cell carcinoma of kidney stage 4B. Or HR HV in a case of cervical TBS case LSIL with clinical stage 2A. Etc, and etc. Is it better than only the surrogate diagnoses like: HR HPV, DNA fragmentation, cytoplasmic vacuoles with detritus inside, the DNA sequences in separate granules of a cytoplasm?

This approach is not difficult to apply. It needs only the requestors of laboratory services in their requisition forms to add their diagnosis or assumption of diagnosis of the patient in question, together with the description of the specimen sent to analysis and date. The laboratory examiner should respond properly with all these information plus his/her diagnosis of the clinical condition found in the specimen. This will conclude a much better communication between doctors and laboratory experts, and will strengthen the accuracy of diagnosis during digital exchange of medical information.

Naturally, modern laboratory specialists working with highly specialized instruments as IVD auto-analyzers, new imaging systems (X-ray, ultrasound, MRI  scanners etc) will always be right to insist on the accuracy of their measurements as the main point of their interest. This is true, but then the management of the patients must always stays in the hands of the doctor who has ordered all these examinations, has the knowledge of their patient's tumor pathology and clinical stage, and has the ultimate responsibility to do the best for the patient. No inference from laboratory except advice should be allowed to interfere with the treatment, as well as no doctor who ordered the laboratory examination should interfere with the accuracy of the laboratory testing. A team work is expected, not a competition between diagnostic technologies.

It seems that this is the reason why the ACS has resisted to many attacks to replace Pap test with more modern and more specific surrogate endpoints, and  is keeping the Pap test cytological data as biomarkers necessary to help physician on the most important issue: how to manage their patients after the testing.

This is the end of this Note. I used Latin terminology only to show to new investigators that, over the centuries, every cancer inventors, authors of suggestion and/or recommendations, manufacturers of new products or providers of new services, hd have the same goal: To postpone the death and to reduce the suffering of patients.

Note about the authors:

NM is a retired clinician, a former Chair of the Department of Oncology, full time professor of Internal Medical, Hematology and Oncology in Yugoslavia, and visiting scientism with comparative titles at the University of Pennsylvania, and Medical College of Pennsylvania in Philadelphia, National Cancer Institute at National Institutes of Health in Bethesda, Food and Drugs Administration, and visiting professor of Hematology, Oncology, Clinical Pathology, Clinical Pharmacology, in the USA, as the member of NIH, FDA and HRSA teams. He is an author of over 200 scientific publications and owner of US patents on medical devices. Currently he provides consultation for second look medical questions via his small business consult BioSciCon, Inc. and advised in affiliated organizations. He is also a long-term cancer survivor, and the fight against cancer is keeping him alive and available to share his experience helping other sufferers.

Prof. Dr. Olivera Markovic is president of the Global Academy for Women's Health, Inc, and her biography can be seen at our website: www.markpap.com.

April 2020
TO EVERYBODY'S CONCERN

MY FELLOW CITIZENS:

I AM ONE OF YOU.

I SHARE YOUR FEARS, YOUR FRUSTRATIONS, AND YOUR CONCERNS ABOUT OUR COLLECTIVE PRESENCE AND FUTURE ON THE PLANET EARTH, WHICH IS ENDANGERED BY THE CORONAVIRUS PANDEMICS. I AM ALSO A TARGET OF MEDIA PROMOTION OF THIS FEAR.

BUT, AT MY AGE ABOVE 80 YEARS WITH MORE THAN 60 YEARS OF CLINICAL PRACTICE AS INTERNIST, HEMATOLOGIST, ONCOLOGIST AND MEDICAL REVIEWER, I LEARNED TO KEEP CALM UNDER THE PRESSURE OF UPCOMING ALARMING INFORMATION, AND TO THOROUGHLY ANALYZE THE DATA RECORDED BY FAITHFUL SOURCES.

INDEED, THE OBJECTIVE DATA ARE NOT SO SCARING. COVID 19 IS ONLY A VIRAL RESPIRATORY INFECTION WITH HIGH CONTAGIOSENESS, LESS INEFECTIVENESS, MUCH LESS PATHOGENICITY AND A LITTLE BIT HIGHER MORTALITY THAN OUR COMMON FLUE.

COVID 19 IS NOT A HERALD OF A WORLD APPOKALPSE. IT IS NOT END OF OUR CIVILIZATION.

AS A MATER OF FACT, THE HUMANITY HAS BEEN EXPOSED TO SIMILAR ATTACKS THROUGHOUT THE WHOLE HISTORY.

THE HUMAN RACE HAS SUFFERED BUT SURVIVED THE BUBONIC PLAQUE, SMALLPOX, CHOLERA, SARS, EBOLA, IN MODERN TIMES TUBERCULOSIS, MALARIA, YELLOW FEVER, HEPATITIS, AND OF COURSE, WORLD WARS. THEY ALL HAS DECIMATED OUR POPULATION, BUT THE RACE HAS SURVIVED – FOR BETTER OR WORSE.

WE STILL DO NOT HAVE UNDERSTOOD THE WHOLE STORY ABOUT COVID 19, BUT IF DATA ARE CORRECTLY PUBLISHED THAN THERE IS NO PLACE FOR PANICKING.

CORONA VIRUS HAS PROBABLY CONTAMINATED VAST REGIONS OF OUR PLANET – PROBABLY ALL OF US HAVE ALREADY BEEN OR CURRENTLY ARE EXPOSED TO CONTAMINATION. HOWEVER, ONLY ONE PART IS INFECTED AND HAS SHOWING EARLY SYMPTOMS OR IS DETECTED AS VIRUS CARRIERS. ONLY 10% OF INFECTED HAVE DEVELOPED A DISEASE, AND ABOUT 4-6% OF DISEASED ARE DYING OR DEAD. PREVENTIVE MEASURES AGAINST A VIRUS, AS AVOIDING CONTACTS WITH INFECTED, BREATHING CLEAN AIR, CLEANING HANDS AND ALL EXPOSED PARTS OF THE BODY AND CLOTHING, CAN REDUCE THE INCIDENCE OF NEW CASES, REDUCE THE AMOUNT OF THE VIRUS ATTACK, CAN RELAX THE DISEASE PROGRESSION AND MAYBE A GOOD REASON FOR STOPPING THE DEVASTATING CONSEQUENCES OF CORONAVIRUS PANDEMICS,  

IF ALL SAID BEFORE IS TRUE, THAN THE CORONAVIRUS PANDEMIC IS ONLY ONE OF MANY EPISODES THAT IS COMING AND GOING, AND SOON WILL DISAPPEAR.

THE ONLY SERIOUS CONSEQUENCES IS EXPECTED IS THE CONSEQUENCES ON THE IMMUNITY OF HUMAN INDIVIDUALS AND THEIR RESPONSE TO EVERLASTING, BUT SMOLDERING PANDEMICS OF CANCER. CANCER IS WITH US FOR THOUSANDS OF YEARS AND IT HAS CAUSED FATAL OUTCOME TO MORE PEOPLE THAN ALL OF THE HIGHLY ALARMED DISEASES THAT HIT THE HUMAN RACE.

CONSEQUENTLY, IN TME OF CORONAVIRUS PANDEMICS, WE NEED NOT FORGET TO THE PERMANENT DANGER OF CANCER AND TO RELAX ANY MESURE DEVELOPED FO PROTECT THE CANCER OCCURRENCE, AMELIORATION OF CANCER SUFFERINGS, AND PROLONGATION OF LIFE WITH CANCER.

ONE OF THE WORST EXAMPLE OF OUR NEGLECT IS THE SHAME WE ALL HAVE TO SHARE BECAUSE THE CERVICAL CANCER IS STILL TAKING THOUSANDS OF LIVES IN SPITE OF ALL MEASURES WE ARE USING AGAINST IT. IS THE CORONAVIRUS PANDEMIC IS A TIME FOR US TO REVISIT WHAT IS CAUSING THIS FAILURE, TO REMOVE THE PROBLEMS AND TO STOP, AT LEAST ONE OF CANCERS, WHICH IS INDEED CURABLE IF DETECTED ON TIME, TO STAY AS A MAJOR KILLER OF WOMEN FROM MALIGNANT DISEASES.

BUT, THIS IS NOT AN INEVITABLE DESTINY. WE CAN DO BETTER.

THIS IS WHY I RECOMMEND TO EVERYONE WHO IS CURRENTLY STAYING AT HOME DUE TO THE SELF-ISOLATION OR QUARANTINE ORDER, TO READ  (FROM THE INTERNET) THE BOOK "WHAT EVERY WOMEN SHOULD KNOW ABOUT CERVICAL CANCER" WRITTEN BY DRS OLIVERA AND NENAD MARKOVIC AND PUBLISHED BY SPRINGER, 2017. CLICK HERE TO SEE THE INFORMATION ABOUT THE BOOK. MAYBE, THE KNOWLEDGE GAINED, WILL HELP MILLIONS OF WOMEN AT RISK FOR CERVICAL CANCER, TO RELAX FROM FEAR OF THIS DISEASE, OR TO TAKE MEASURES THAT WILL CURE THE CANCER.

PROF. DR. NENAD MARKOVIC
CHAIR OF THE BOARD OF ADVISORS FOR GAWH

January 2020
In 2020, we are starting a new launch of our upgraded technology under the name MarkPap® System™.

On January 14, 2020 BioSciCon was featured in BioHealth Innovation News.

Please read the article below.

The month of January is designated as the Cervical Cancer Awareness month.

Seeking Partner to Help Save Womens' Lives Through Easy-to-Use and Analyze Cervical Cancer Screening Test/MarkPap® System

BioSciCon, Inc., a woman-owned small business based in Rockville, Maryland focused on providing a low-cost and accessible diagnostic system for the detection of cervical cancer announced today that it is seeking a partner to make its proprietary MarkPap® platform available to women in low- and middle-income countries.

According to BioSciCon Director and President of the Global Academy for Women's Health Dr. Olivera Markovic, "In low- and middle-income countries (LMICs), thousands of women still are dying needlessly every year from cervical cancer due to the astonishingly low screening in LMICs for this highly preventable disease. Our kit and screening model, if applied as designed, could prevent the deaths of about 300,000 women annually, through improved and expanded screening and early detection of cervical cancer."

The idea for BioSciCon was conceived by Drs. Olivera and Nenad Markovic upon discovery of a new bioactive protein residing only in specimens obtained from abnormal cervical tissues. Continued success of their team of scientists led to the development of a proprietary technology for visualization of this protein by simple laboratory pathology means known as the CAP-PAP Test. The MarkPap® System has been tested in more than 2000 women and proven to result in faster, less expensive and more accurate diagnosis of cervical cancer than the conventional Pap and liquid-based Pap test.  These improved outcomes have been documented in more than 60 publications in peer-reviewed  journals and in the reference guide "What Every Woman Should Know about Cervical Cancer").  To further the company's mission to save women's lives through early intervention in LMICs, BioSciCon is seeking a partner to distribute MarkPap kits to underprivileged women in low resource settings.

May 2019
It is the National Women's Health Week. Please read the GAWH Policy Statement for Cervical Cancer Screening 2019/20.
Click here to read statement.
February 2019
The Abstract entitled "Telling the Truth about Cancer is a Challenge" authored by Drs Olivera and Nenad Markovic
has been accepted for presentation/publication at the 2019 Experimental Biology Meeting that will be held in April in Orlando, Florida. Click here to see the Abstract.
December 2018
Please consider to donate to the Global Academy for Women's Health. Every dollar you give will help our Mission to advance science and education in women's health.

Make our book "What every woman should know about cervical cancer" your companion to turn to when you are ill and need guidance where to go, or if you are healthy, learn how to stay healthy.
‍
Ask questions, our recent Webinar "Cervical Cancer, an Everlasting World Health Challenge" is opened for questions. We will respond, and you learn, because knowledge is power.

But, help us in our Mission, contribute and make a difference! Make your tax-exempt contribution now by clicking on the bottom.

Thank you.

Take me to the Sponsorship Form page
November 2018
November 19, 2018

The lecture CERVICAL CANCER, EVERLASTING WORLD HEALTH CHALLENGE is now available On Demand on Labroots.com.

To attend the Lecture click here. The registration is free.

WELCOME TO THE CONFERENCE!

You are cordially invited to the 9th Annual Clinical Diagnostics & Research online conference  to attend the lecture Cervical Cancer: Everlasting World Health Challenge,
presented by Dr. Olivera Markovic, Professor and President of Global Academy for Women's Health
The lecture will be broadcasted on Thursday, November 15, 2018  at 10:30AM PT on www.labroots.com
It is organized by Labroots, promoter of virtual education and sponsor of Continuing Medical Education (CME)
The Global Academy for Women's Health is a nonprofit organization 501C(3) with a mission to advance science and education in women's health globally.
August 2018
BioSciCon, Inc has been awarded:
Best for Women's Health Promotion 2018 - Maryland

July 2018
Dr. Markovic and BioSciCon, Inc were nominated for the Healthcare and Pharmaceutical Award 2018, by Global Health and Pharma.
GHP is a global information sharing platform & a multi-disciplinary members community, established to enhance communication networks & collaboration across all themes and disciplines within main categories: Human, Animal & Environmental Health, Academia, Industry, Public Bodies & Health Systems, Governments & Policy Makers, Funding Agencies & Groups.

June 2018
Drs. Olivera and Nenad Markovic contributed to the FASEB Experimental Biology Meeting in April, 2018 in San Diego, CA with the report " Is HPV Vaccination Secure Protection of Women With or Without Cytological Cancer Screening."
February 15, 2018
Global Academy for Women's Health gratefully acknowledges the kind letter received from Mrs. Melania Trump, The First Lady, and her autographed photo that will decorate the Office of The Global Academy for Women's Health. This is a beautiful present to the Academy received during the National Cancer Prevention Month.
The Global Academy for Women's health has been informing the First Lady, who is very much interested in women's health and women's issues, about its progress of fighting against cervical cancer deaths globally. Cervical cancer raising mortality has  been successfully conquered in the US in the past,  which puts USA in the position to be the world leader in spreading its experience, knowledge and ability to help all countries to reduce their death rate from this fatal, but also completely preventable and curable disease. Saving women's lives worldwide will certainly reduce the global health disparity paralleling the noble declaration that All humans are born equal, which is the essential statue in the USA Constitution.
February 2018
Global Academy for Women's Health is celebrating the month of February, National Cancer Prevention Month, remembering Dr. Papanicolaou and his Pap test, which saved millions of lives around the globe.
Cervical cancer is completely preventable and curable IF detected on time by screening. Unfortunately, in the 21st Century, more than 300,000 women globally, 70,000 in India and 4,000 in the US unnecessarily die per year from this disease. These are somebody's wives, sisters, mothers, daughters , and their passing is a disaster for the whole family.
The biggest success in cancer prevention was made in 1943 when Dr. George Papanicolaou has described his new test for better preparation of smears, staining and reading the gynecological specimens collected by excoriation from uterine cervix.
Soon American Cancer Society recognized this new test as the opportunity for mass cervical cancer screening, and lunched a campaign which reached to 80% of American women who became participating in Pap test screening annually. The results were beyond expectation and in late 20th Century the reduction of cervical cancer mortality has reached the rate of 80% and the Pap Test, the name that was given according to the Dr. Papanicolaou, nickname, was declared as the "best cancer screening test available."
Unfortunately this test had 20% false negative readings and the NIH National Consensus Conference on Cervical cancer in 1996 called for improvement. The emphasis was given to improvement of sampling and liquid based technologies evolved, but the problem was not solved..
At the same time, we have asked JNCI audience whether a biomarker-based technology can be of help. They supported this idea and we develop a new technology.
Please visit the Cervical Cancer page on this web site to access the article.
Global Academy for Women's Health, following its Mission to advance  science and education in woman's health globally,  submitted a grant proposal to NIH entitled "Collecting evidence on how much using mobile telecytopathology may reduce cervical cancer rates disparity between rural and urban population in a model Law Middle Income Country (LMIC).
QUO VADIS PAP TEST?
Celebrating this month in 2018, we prepared for our audience a short article in the memory of those days, the following period, and finally, we asked the question what is waiting for us tomorrow. The question is spelled in old Latin" Quo Vadis Pap Test?" because cervical cancer is known from ancient times, and still this problem needs a global solution.
September 2017
August 2017
Dr. Olivera Markovic has been selected for 2017 Marquis Lifetime Achievement Award
This award came after a decade of multiple bibliographical citations of Dr. Markovic's work in several editions of Marquis Who is Who. "We are pleased to announce that Marquis Who's Who has selected you for our official 2017 Albert Nelson Marquis Lifetime Achievement Award. You have been selected to receive this prestigious award as a result of your hard work and dedication to your profession. Congratulations!"
May 2017
In UMBC Insights Weekly of May 22, 2017, University of Maryland Baltimore County (UMBC) announced publishing 
Drs. Markovic's book "What every woman should know about cervical cancer" in its  KUDOS Section.
April 2017
Drs Markovic contributed to the Experimental Biology National Meeting, EB Chicago, 2017 with the report on Cervical Cancer and HPV: Dilemmas and Resolution via Biomarkers. See Ref. 22.
January 2017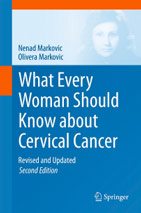 The Book Is Published!
At the beginning of the Cervical Cancer Awareness Month, we are happy to announce that the second, upgraded and extended edition of our book "What every woman should know about cervical cancer" is published by Springer.
Read More
September 2016
It is to announce that Dr. Olivera Markovic is appointed Adjunct Professor of Biological Sciences at the University of Maryland Baltimore County. She is currently teaching classes in Graduate Master Degree Program in Biotechnology at UMBC, USG. This is the fifth professorship awarded to Dr. Markovic, after Medical Faculty, University in Belgrade, former Yugoslavia, Medical College of Pennsylvania/Drexel University in Philadelphia, PA, Georgetown University, in Washington, Washington DC and American University in Washington, DC.
August 2016
A new composite marker for cervical dysplasia

MEDYKO is a new upgraded MarkPap(r) biomarker. It is an acronym of ME (metabolic biomarker--acid phosphatase), DY (pathocytological signs of dysplasia) and KO (koilocyte sign of HPV disease).

It combines signs of pre-cancerous condition, cancer disease and cancer prognosis; altogether metabolic, pathocytological and HPV diagnostic assay.

Read More...
March 2016
Mother's Day 2016
Editorial
Mothers of the World, Foundation of the Family and its Guiding Force, our Heroes -- Happy Mother's Day!
However, sadly, today in the 21st Century, thousands of women still die from preventable diseases. One example is cervical cancer, which is completely preventable and curable if detected on time, but it is still one the major women's killer in the world, particularly in the developing countries. What to do about it, how to help women around the world?
How to prevent it? The answer is: With cervical cancer screening to detect early changes of cervical cells that may develop into cancer and to educate women how to take better care of their health. Unfortunately, after 70 years of Pap test availability, the ultimate goal – to reverse of cervical cancer trends globally – has been achieved partially – in developed countries, only. In most of developing countries, the outreach for preventive cytological screening is less than 10%. Screening for risk factors such as HPV has contributed, but still not sufficiently.
Is global mass cervical cancer screening possible today? Our answer is: YES, but with new tools. With the fast development of IT technology application in medicine (e-Health & M-Health) and diagnosis at distance (telemedicine), with new biomarkers improving the staining procedure of Pap test, this can happen and thousands of Points-of-Care (POC) may become screening units for affordable cost.
BioSciCon's MarkPap® platform technology, supported by GAWH, belongs to this new generation of Pap tests. A low-trained technician at the POC in the remote sites can process the specimen with customer-friendly MarkPap® Kit, locate suspicious cells highlighted by the biomarker and transmit microscopic images, via MarkPap® Networking System, to experts for instant diagnosis. Home MarkPap® Specimen collection kit will further increase accessibility and make the test culture-sensitive. See www.bioscicon.com.
The whole procedure should be completed while a woman is still on the premises, some smaller intervention can be performed at the POC, or a woman could be timely directed to a health care institution for further treatment (One-Day Pap test).
This biomarker-based, telemedicine-enabled, infrastructure independent, low-cost, simple, affordable, accessible, and culture- sensitive technology combined with wide education of women to increase awareness about prevention, may become a new tool for mass cervical cancer screening, a technology which can bring right care at the right place and at the right time for lower cost.
The MarkPap® technology is already widely implemented in China, with current efforts to be introduced in India. With targeting support, it could be introduced globally and save thousands of women's lives.
May this Mother's Day, 2016 be the beginning of the new era and the best greeting for all women in the world.
January 2015
Dr. Markovic is teaching the course Emerging Topics in Biotechnology at the UMBC, Graduate Master Degree Program.
May 2014
Please view the video, which is an insert from the video presented at the NIH Single Cell Analysis Investigator's Conference, April 2014, Bethesda MD.
Note: Video requires password to view. Enter 'GAWH' to view.
To read more, click here.
March 2014
The participation of BioSciCon and the Global Academy for Women's Health on the January 2014 National Conference on Cancer Detection, Diagnosis and Treatment Technologies for Global Health, appeared in Hopkins News, March 2014. Please click here to read the article.
February 2014
BioSciCon, Inc and Global Academy for Women's Health with participation of companies from LMIC counties, submitted a Project Proposal entitled "Wireless Cervical Cancer Screening in Low and Medium Income Counties" The Proposal was submitted to the National Institutes of Health. Click here to read the Narrative of the Proposal.
January 2014
Global Academy for Women's Health participated in the 2014 NIH organized National Conference on Cancer Detection, Diagnosis and Treatment Technologies for Global Health in Bethesda, MD.
The Global Academy presented a review: "Meeting WHO Recommendations for cervical cancer screening in developing countries." The presentation was enriched with long experience the authors have gained working with Indian partners in India. Data presented are in support of the concept that the high tech medical devices could always be simplified to meet more limited requirements. One of the solutions to this task is using biomarkers for specific diseases and navigating all consequent procedures and tools through the scope of the selective biomarker.
According to WHO, Pap test remains the best cervical cancer preventive test. However, its classic version cannot be directly applied in the developing world primarily because of the cost and lack of infrastructure. Fortunately, the new biomarker-based Pap test, MarkPap technology products and services which are empowered with telemedicine for distant reading may provide a low-cost, simple, infrastructure independent, accessible, equitable and culture-sensitive opportunity to implement cytological cervical cancer screening all over the world, particularly in the developing world, where it is most needed (www.bioscicon.com). Click here to view the Abstract.
In the subsequent discussion, Dr. Olivera Markovic emphasized, based on experiences in China and India, that the biggest barrier is not the cost, but lack of infrastructure at the Point-of-Care (e.g., qualified pathologist, trained technicians), which is most difficult to overcome and needs decades to be developed. Here, telemedicine, telecytopathology providing diagnosis on distance, is the method of choice. Particularly, mobile cell phone transmission of microscopic images from the Point-of-Care to the specialist. The whole procedure may take just few hours, and women could get diagnosis and initial treatment within one single day, while still on the premises. The new ideas attracted a particular interest in the audience, which expressed interest for more information and for guidance on how to use these technological inventions in their environment.
Global Academy for Women Health and BioSciCon, together with several collaborators from the US and India, submitted a grant proposal to NIH, entitled " A comprehensive IT Telehealth Center for Cervical Cancer Screening in India". This development, if supported, will open a prospective to screening, diagnosis and treatment of Indian women the same day they visit a Point-of-Care.
Please click to see the Narrative of this Proposal.
September 2013
Pap Smear Test Can Be Made Available and Accessible to Women World-Wide.
It has been tested and repeatedly confirmed during BioSciCon's R&D of the proprietary platform technology under the brand name MarkPap®, which is biomarker-based and telemedicine-empowered. The products in the production pipeline are designed to be low-cost, simple, fast, accurate, accessible, equitable and infrastructure-independent, with selective intended application such as Mass Pap Smear Cervical Cancer Screening World-Wide.
Currently, BioSciCon is offering a set of three products from the MarkPap® pipeline for developing countries, particularly India: MarkPap® Test Reagent Kit (a set of reagents, controls and instructions for simple processing specimens by a low-trained technician at the Point-of-Care). MarkPap® Telemedicine Service (diagnosis at distance) and MarkPap® Self-Collection Home Kit (to allow women to take sample at home and send it to the lab for testing). Practically, it means that a women can take a sample at home and send it to the lab where a low-trained person can process the specimen with the simple Reagent Kit. The same person looks on the slide under the microscope searching for biomarker positive (red flagged) abnormal cells and transmits the images of those microscopic fields with a cell phone to specialists. The result could be obtained back within one hour. If implemented, this is how MarkPap® products could bring Pap test across the globe.
The products are ready for marketing, and sales are contingent to the local (in-country) regulatory requirements (By permission, BioSciCon, Inc.).
We were present at the 18th International Congress of Cytology in Paris, where the paper entitled "Evaluation of Cytology Screening Strategies for Cervical Cancer In Resource Poor Setting" was presented by our Indian colleagues.
July 2013
The recent report of the Associated Press (June 3, 2013) from the Meeting of the American Association of Clinical Oncology ( ASCO) in Chicago entitled "Study finds simple vinegar test slashes cervical cancer dearth rates", has flooded international media with excitement and some exaggeration. However, a closer view of the clinical trial report shows a discrepancy between modesty of the authors and the enthusiasm of media based on their interpretation of the same results.
We share the excitement, because all of us would like to see and to hear any breakthrough in cancer research and treatment, but "vinegar test" is not that. The unfortunate history of many diseases teaches that the "Medical Breakthrough News" should always be well considered before being broadcast with enthusiasm. Particularly, news about treatment or prevention of cancer. They can convey false hopes, making the consequent disappointments much more damaging.
In order to prevent such stress-related damages, we believe the true information is the best tool to use. Since our mission is to advance science and education in women's health, and we have recently published a book on "What Every Woman Should Know About Cervical Cancer" (Springer), we used this opportunity to comment on several articles which promoted "vinegar test" as "miracle cervical cancer prevention."
Our comments were well accepted and published. Please see the reference to these articles and our comments published on the Internet.
The purpose of this briefing is not to criticize or to give lectures. The only purpose is to incite the interest to read more and to learn more about the problem. One information is never sufficient. It was known even to ancient Latin people. They had a saying very appropriate to this occasion. CAVE LECTOREM UNIUM LIBRI (protect yourself from the readers of one book).
And, here is why. In the discusses Indian study the control group were women who did not participate in the program. Having such "historical" control is allowable approach, but it does not allow for such "hopeful" interpretation. There is no doubt that VIA (visual inspection with acid) is better than no screening at all, but it is also true that VIA without acid is better than nothing. Also, pelvic exam is better than nothing and even inquiry about women's gynecological problems is better than nothing. VIA is not a novelty and has been used in India for many years, but without significant effect on cervical cancer prevalence and mortality in India (WHO report).
It is also true that Pap test is superior to all of these methods, but it is expensive and requires infrastructure at the Point-of-Care. However, there is a low-cost accurate, fast and infrastructure independent Pap test improved by biomarker and telemedicine (smart phone included) method, which could be implemented everywhere in the world for mass cytological cervical cancer screening and HPV triage. For those who are interested to read more, please visit www.bioscicon.com/pressrelease.html and prior BioSciCon's presentations at the American Society for Clinical Oncology (ASCO) meetings, and the presentation from Indian authors at the 8th World Congress of Cytopathology held the same month of June, 2013 in Paris, favoring cytological cervical screening in low-resource countries.
If you have any further question or comment please write to us at gawh@markpap.com.
May 2013
BioSciCon, Inc supported by the Global Academy for Women's Health is currently developing low-cost, simple devices for early detection of oral cancer. Oral cancer is common cancer and is among major health problems in the developing countries, particularly in India. To read more about this most recent effort, click here.
Prof. Olivera Markovic and the Global Academy for Women's Health were invited to present the lecture on "Cervical Cancer: Past, Present and Future" at the conference organized by Egyptian American Group in partnership with John Hopkins University at the Northern Virginia Community College, Annandale, VA. Please click here to see the presentation.
April 2013
The Global Academy, together with BioSciCon is continuing its effort to advise and support the development of low-cost, simple medical devices which are infrastructure independent and accessible in low-resource countries. Telemedicine (wired and wireless) provides powerful tools to achieve success. Please click here to read "IT Telehealth Center for Telecytopathology" that appeared in The FASEB Journal 2013, 27:874.20.
February 2013
The Global Academy for Women's Health has submitted Application to the IUSSTF Fund for organizing the Symposium "Strategy for Reversing the Negative Trends of Increasing Prevalence and Mortality of Indian Women from Cervical Cancer." The Symposium is anticipated to be held in 2013 at the Johns Hopkins University, Montgomery Campus in Rockville, MD. The Proposal for a comprehensive strategy to increase the outreach for preventive screening to 50% during the next 10-12 years is in preparation. It is expected that the negative trend of an increasing morbidity and mortality at the current outreach of 6% will start to decrease when reaching 50% point.
January 2013
In response to the WHO launched Non-Communicable Disease Action Plan, the Global Academy for Women's Health has concentrated on three topics which are in our domain:
Develop scientific strategies for cancer prevention and control
Develop standards and tools to guide the planning and implementation of interventions for prevention, early detection, treatment and care.
Provide technical assistance for rapid, effective transfer of best practice intervention to developing countries.
Global Academy provides assistance to the Consortium member, MarkPap India, LLC in the Strategy for Fight Against Cervical Cancer in India (See Brochure-November 2012). Our patron company BioSciCon, Inc. has sponsored the development of tools to guide this Strategy.
The Global Academy for Women's Health, together with long-term collaborators, colleagues from the All Indian Institute for Medical Sciences (New Delhi), have applied for NIH India-US Collaborative Research Grant "Development of low-cost medical device for cancer screening: MarkPap® Wireless System."
November 2012
Global Academy for Women's Health is announcing that recently, one of our allied companies, MarkPap India, LLC, has issued a Brochure on "Fighting Cervical Cancer in India." The brochure is about comprehensive strategy to reverse cervical cancer prevalence and mortality in India, based on most recent knowledge about the problem and availability of MarkPap® Platform technology products and services, which together with telemedicine may guarantee the success of this task.
Brochure can be retrieved by clicking here.
October 2012
Inspired by the Global Academy for Women' Health, the non-profit member of the BioSciCon's Consortium, BioSciCon, Inc., a social enterprise, continues its mission for development simple, low-cost medical devices suitable for the Point-of-Care with minimal infrastructure and low-trained personnel in rural, low-resource areas in the world. MarkPap® proprietary platform technology is a typical example for a biomarker-based, telemedicine empowered, simple, affordable, accessible, infrastructure independent technology for early detection of abnormal cells on cervical specimens.
Recently, another medical device. from the same category, APE-100 was announced by BioSciCon for early detection of abnormal cells from oral cavity. Those patients who do not have access to medical institution can obtain oral specimen at home, using a simple Self-Collection Kit and mail it to the doctor's office. APE-100 is in R&D phase of development.
According to the World Health Organization, carcinoma of oral cavity is the sixth most frequent cancer among males in developing countries. Although it represents 2-4% of the malignancies in the western countries, it is estimated to be as high as up to 40% of male cancers in some areas of India.
June 2012
The Global Academy for Women's Health is strongly supporting the development of low-cost, simple medical diagnostic devices that could be used globally to alleviate the disparity in women's healthcare. Wireless health is providing a wide avenue to advance in this field, since 80% of the world's population lives in regions with mobile phone accessibility. Read more about BioSciCon's efforts, supported by the Global Academy for Women's Health, to advance wireless telecytopathology (wireless transmission of microscopic images) from the Point-of-Care to specialists for instant diagnosis, that appeared in Hopkins News : http://mcchappenings.jhu.edu.
March 2012
The preparation of the Second updated and extended edition of "What Every Woman Should Know about Cervical Cancer" in Hopkins News, February 2012.
http://web1.johnshopkins.edu/~mccblog/?p=1376.
December 2011
In the context of its mission to advance science in women's health globally, the Global Academy for Women's Health supports and sponsors research and development of simple, low-cost devices affordable to the low-resource countries, as an effort to alleviate the disparity in women's health care. Most recently the Academy is sponsoring research and development of a prototype device for a simple, low-cost Home Self-Sampling Kit that will allow women to take specimens in the privacy of their home and mail it to the doctor's offices/laboratories for preventive cervical cancer screening. It is expected that this will increase the outreach for screening by helping women who do not have access to doctor's offices or for different reasons are not allowed to visit gynecologists.
Outreach for cervical cancer prevention screening is extremely important in the worldwide fight against cervical cancer. The outreach is very low (less than 10%) in many low-resource areas in the world. In India, for example, is 6%. Lack of women's participation in cancer control measures is the main reason why still half a million women get cervical cancer and 300,000 die per year, mostly in the developing world.
October 2011
The renown international publisher Springer invited Dr. Nenad Markovic and Dr. Olivera Markovic to prepare the second, extended and updated edition of their book "What Every Woman Should know about Cervical Cancer." In the context of its mission to advance education in women's health, the Global Academy for Women's Health supports the Second Edition of the book. The first edition was published by Spriger in 2008, it is well accepted and it is distributed worldwiode by Springer, Amazon and affilited distributors.
April 2011
Dr. Olivera Markovic, President of the Global Academy for Women's Health, Inc. provided an interview to the Virginia Telehealth Network on the current progress of telemedicine efforts supported by the Global Academy for Women's Health to bring expert medical healthcare to the remote point-of-care locations in low-resource areas, where it is most needed.
Please visit the Virginia Telehealth Network web site:
http://ehealthvirginia.org/technologywatch2.html
October 2010
An the premises of it's Office at Johns Hopkins University, MCC, The Global Academy for Women's Health has prepared a permanent display of contributions from its international affiliates.
June 2010
BioSciCon Consortium is featured at Virginia Telehealth Network Web Site. BioSciCon, Inc is developing IT and Mobile Telehealth Center for Telecytopathology Services in Rockville, MD
January 2010
MarkPap Pacific, LLC, BioSciCon's Consortium Company, is featured in Washington Post MarkPap Pacific, LLC and its activities were featured in the Washington Post on December 28, 2010.
December 2009
The Global Academy for Women's Health got a home at the Johns Hopkins University Montgomery County Campus in support of organization's educational mission, and the advancement of women's health research.
October 2009
The Global Academy for Women's Health, Inc., in collaboration with the Johns Hopkins University, Montgomery County Campus, submitted a project proposal to the National Institutes of Health for ARRA support for extension and renovation of facilities at the Campus aimed for the advancement of science and education in women's health.
September 2009
BioSciCon and Its Companies on the Forefront of mHealth Development The Global Academy for Women's Health is supporting BioSciCon's research and development for the advancement of science of women's health worldwide. There are still thousands of women who die from cervical cancer in the world. Approximately every two minutes one women get cervical cancer and every three minutes one women die from cervical cancer. Mortality is still high in the countries of the developing world, where only 15% of women get cervical cancer prevention. A simple Pap test that detects cervical cancer early (even in pre-cancerous stage) is still not available or not affordable to many women.
Trying to make a difference The Global Academy for Women's Health is supporting the efforts of BioSciCon, Inc. to make its MarkPap(r) Digital (diagnosis at distance) available to the world. For three years BioSciCon was developing its MarkPap(r) Digital enabling transfer of images with the aid of digital cameras and Internet to laboratories with professionals who provide the results. The main problem in the developing countries is lack of infrastructure and lack of trained professionals to provide the result. Telemedicine / telecytopathology enabling diagnosis at distance could be solution of this problem.
However, those who need medical help most do not have Internet and digital cameras. In the same time, the cellphone industry has advanced so quickly that much more people, even in least developed regions, have cellphones. This is why BioSciCon, Inc. focused it's efforts, using its powerful MarkPap technology platform, to develop MarkPap® Wireless-- transmission of images using cellphone cameras. The year 2009 was devoted to this task and BioSciCon, supported by the Global Academy for Women's Health, succeeded to advance in this field. Please, see www.bioscicon.com/gallery.html where first set of images obtained by cellphone camera is presented. With BioSciCon's permission, we are presenting here segments of its recent Press Release.
The mHealth denotes delivering health care services using mobile wireless communications that has recently emerged as a new viable option for providing health care in developing countries. The Year 2009 is proclaimed as the Year of mHealth. According to the United Nations Foundation, the mHealth is "a high reach, cost-efficient method for making healthcare more accessible, affordable and effective across the developing world." Many regions in the world do not have access to the Internet, but 80% of the world's population lives in regions with mobile phone accessibility.
January 2009
The book "What every woman should know about cervical cancer'" was published in July 2008 by Springer for international distribution.
In August 2008, the New York Times published a comprehensive article "Drug makers' push leads to cancer vaccines' fast rise" which has created public alert and excitement. (Link to article). The full text was published in NYT on August 20, 2008.
This book came in a specific moment when in the US and in many countries of the world proponents of HPV vaccination are promoting mandatory vaccination for girls and are pressing issues to immunize as large population as possible. Because the vaccine is specific for only four HPV strains that can cause HPV persistent disease that can cause warts and/or cervical cancer in the future, because this future reference is not yet available (short time for evaluation), and because vaccines have their own side effects, potential consumers, women and their daughters are alerted, scared and somehow confused what to do. This book is bringing fresh, scientifically based information and is intended to improve women's knowledge to the level that can make educated decision about their own health. This task is not easy to achieve. Reading the book is an excellent first step, but is only a first step. Such books need to be understood and learned. Fully aware of the needs to expand the knowledge of women after reading the book, the Academy has designed a plan to work with those women who had read the book and have expressed interest for further knowledge, to help them obtain this knowledge via focus groups.
The second part "the interactive education" is open for enrollment. The focus groups are designed as party events where women will gather to discuss the book, ask questions and receive answers from professionals. Prior to that, the book will be given to women free of charge to read and come prepared to the focus group discussion and to ask educated questions. In the informal atmosphere of the focus group gathering, women will feel comfortable to ask questions and get answers to the problems they face in everyday life concerning their health. This will give them the opportunity to learn more about scientifically proven and medically correct explanations that will help them to make the best possible decisions about their health and the health of their families. The book will remain in their possession as a companion to turn to later when needed.
It is expected that women, participants of the focus groups, will share their experiences and new knowledge with their families, friends, co-workers and acquaintances and this is how the awareness will be raised and the knowledge will be spread in the communities for the benefit of all.
The Global Academy welcomes contributions to purchase books for women and to organize more focus groups. Please click on the Contact Us page to contact the Academy and to provide donations. The Global Academy for Women's Health is a tax exempt organization under Section 501(c)(3) of the Internal Revenue Code.
Forward Looking Statement
Except for historical information provided herein these press releases may contain information and statements of a forward-looking nature concerning the future performance of the Company. These statements are based on suppositions and uncertainties as well as on management's best possible evaluation of future events. As a result, readers are advised that actual results may differ from expected results.
June 2008

Dr. Nenad Markovic and Dr. Olivera Markovic, The Global Academy for Women's Health, Inc., Rockville, MD, authored the book "What Every Woman Should Know about Cervical Cancer" that has been recently published by Springer for international distribution. The book is currently available in Europe and will be available in the US in July 2008.
http://www.springer.com/biomed/cancer/book/978-1-4020-6936-9
This book is intended for wide audience: General public, including healthy women at all ages and their spouses, girls and their parents, women suffering from cervical dysplasia and cervical cancer and their families and caregivers. It will also well serve students and their instructors at colleges and universities and health professionals involved in women's health.
Recent introduction of HPV vaccines has raised hopes for immunization against cervical cancer and for the first time in the history of humanity for eradication of cervical cancer. The new 'opportunity' has changed many current views on cervical cancer prevention, control, diagnosis and treatment. Many canons and guidelines became subject to review and many revisions are coming. This book is intended to summarize most of these events and to present them in a language understandable for general public. We expect the book will bring all readers the rationale for optimism and will provide guidelines as how to gain knowledge and skills for critical thinking and making educated decision when it will be necessary in their lives.
The Global Academy for Women's Health supported the BioSciCon Team for Telecytopathology to presenta a poster at the Innovative Corridor of the 2008 BIO Convention, June 17-20, San Diego, CA, The title of the presentation is A tool for integration of cytology, HPV screening and telecytopathology.
April 2008
The Global Academy for Women's Health Team participated with an abstract entitled Ask for women' opinion first on FASEB Experimental Biology, 2008. Today's Research: Tomorrow's Health. San Diego, California, April 5-9, 2008.
November 2007
Drs Markovic participated in the 55th Annual Meeting of the American Society of Cytopathology held in Huston on November 2-6, 2007. They presented the results of the application of MarkPap technology and its prospective in telecytopathology.